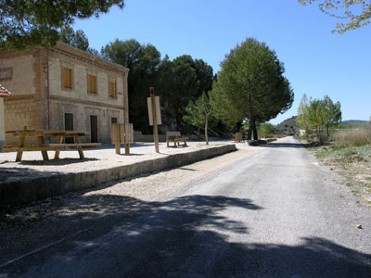 Apeadero del Niño, km. 5 – 30170 MULA
Phone 638 901 535 • alverdes.es • reservas@alverdes.es
Old station, restored as a refuge in the middle of an incomparable and secluded place, to enjoy nature in its purest state.
Idyllic location of this hostel. It is located between the site of "El Niño de Mule" and Bullas. Surrounded by thickets and vegetation typical of the Mediterranean environment.
This hostel brings together the characteristics of a high mountain refuge. You sleep on parquet floors and users must bring everything you need to sleep (mats, sleeping bag, blankets, etc…)
It consists of two floors with bathrooms and there are common toilets and two large sleeping rooms.
It has light and water.
Distance from the road: 76 meters.
Rooms: 1
Beds: No
Bedding: No
Toilet/showers: Yes
Towels: No
Kitchen: No
Television/Internet: No
Cafeteria Service: No
Animals: If adapted: No
Bookings will be made with a minimum of 48 h. In advance, via email or telephone
Only for groups from 15 people.
Rooms: 2.
Capacity: 60 people.
Nature activities, mountain bikes, hiking.